We Are Saddened to Announce the Passing of Brian Clay
Brian was one of a group that joined Live Free USA in the early 1980's after we had been featured on numerous TV and radio programs in the Chicago area.  Brian was a Vietnam veteran, a French and Indian war reenactor, and a certified Live Free Survival Instructor. Brian served as an officer of Live Free for many years, and was the leader of the remaining Southwest Chicago Live Free chapter. We remember many an adventure and many campfire times with Brian. He will be greatly missed by all who knew him.
Brian passed just a few days after the passing of his wife Diane, and is survived by his son Jason. This is the third Live Free core group member that has left use within the past 18 months.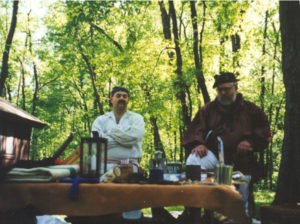 Brian Clay (right) with Brian Duffie (left) presets one of their classic pioneer survival classes.