Camp Independence Returns to Tippecanoe

Video courtesy of Tracy Apperson of Sparrow Rose Soap
When the State of Indiana closed the Group Camp facilities at Tippecanoe River State Park a few years ago Live Free USA tried a few other locations for our flagship event.  The original Group Camp facility included a large dining hall, an infirmary, instructors lodging, a crafty training building, and thirty-six cabins for participants to stay in. We were unable to find anything comparable for the kind of events we had hosted for over forty-five years.
After a few challenging efforts at other sites, we decided to try using the remaining Tepicon Hall back at Tippecanoe.  We were delighted to find that the hall had been remodeled and upgraded.  Attendees who wanted to stay overnight were able to rent the nice Rent-A-Camp cabins or reserve campsites in the park through the Indiana DNR website.  Although Tepicon has is a bit smaller hall, we were able to accommodate everyone nicely and used the adjoining outdoor areas to conduct concurrent classes.
We again were able to provide breakfast, lunch, and dinner at a nominal cost to all in attendance. In addition to a full schedule of classes, we sold books, recruited members and conducted raffles with great survival gear and training prizes contributed by local vendors and generous members.   Members pitched in manning tables, serving meals, and cleaning up the facilities. The enthusiasm and camaraderie was at a level not seen in several years. Classes included: food preservation, gardening, beekeeping, fire starting, survival for children, field navigation, first aid, drone uses, survival packs, radio communications, knife sharpening, and more. Needless to say, Camp Independence will be back at Tippecanoe next-year and in years to come.  Watch this publication and our website and Facebook pages for the dates.  We are already looking for instructors and helpers for that event.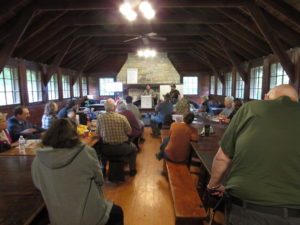 A full hall of participants listen to one of many instructors throughout the day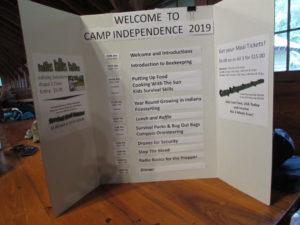 Schedule of indoor and outdoor classes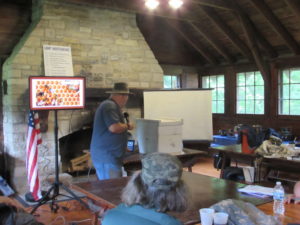 Instructors used multi-media, hands-on and demonstrations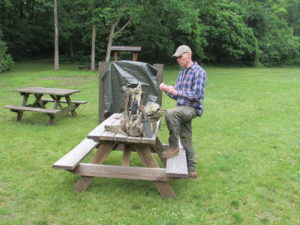 Th outdoor area was used for fire starting, navigation and other subjects
Tables filled with items for the Survival Stuff raffle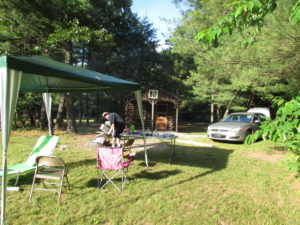 Comfortable cabins and space for family activities were available from the Indiana DNR