Larry J. Chisausky
1-23-1947  - 4-12-2019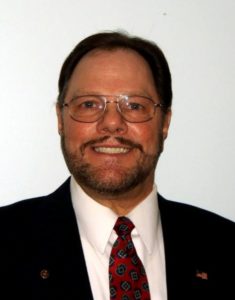 Live Free has lost, Larry Chisausky, a dear friend and dedicated member of our Board Of Directors.

A memorial visitation will be held at the
Fedde-Helfrich-Cross Funeral Home, on Saturday, April 20th.  A Memorial Mass,  Committal Services and Military honors at Abraham Lincoln National Cemetery April 22nd.
Profession & background: Degrees in Finance, MIS, and Communications.
Larry's vocation has been an IT Professional Consultant, Systems Analyst and Designer, Project Manager, Tech jock, and Business Systems Analyst for the last 30+ years.
His avocation can be summarized …… As family and friends say, "Larry was awarded a full scholarship (by our Uncle Sam) to the University of South Vietnam, College of Warfare, and majored in Outdoor Survival." He was a tried and true Patriot veteran and proud to be an American! He has been an avid outdoors adventurer, wilderness trip planner, leader, and environmentalist since the late 60's.
Larry shared his energy, enthusiasm, skills, respect, and love of the outdoors with youth, Scouting families, self-reliance, and Emergency- Preparedness seekers. Larry was an active Boy Scout leader, trainer, and counselor for the Boy Scouts of America and these merit badges: 1st Aid, CPR & AED, Emergency Preparedness, Wilderness Survival, Canoeing, Camping, Kayaking, Cooking, Orienteering, Computers, Communications, Leave No Trace, and Wilderness 1st Aid.
Other volunteer commitments include American Legion Post 392 Officer; LiveFree,USA Board of Directors, Medical Team Director & Survival trainer; Lifetime Rotary Intl. Paul Harris Fellow; Member of VFW Post 1493; Charter Organization representative for Cub Scout Pack 315; Outdoor Leader Trainer for Rainbow Council in Morris, Il.; and Dedicated Member of the Project Michelangelo Foundation.
Specialty: Beyond the above-stated activities Larry taught youth and families that Character Does Count, to Do Your Best at every task, to have Confidence, be willing to work for TEAM Goals, and Trust that the Lord will guide you.
Philosophy in life: Psalm 23:4 "Even though I walk through the valley of the shadow of death, I will fear no evil, for you are with me; your rod and your staff, they comfort me." One must believe in Prayer for it to work!