Originating in 1968, Camp Independence is the oldest preparedness gathering in the country. Participants are encouraged to register well in advance.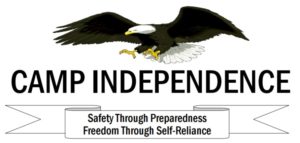 Saturday June 15th 2019, 9:00 AM till 6:00 PM
At Tepicon Hall, at Tippecanoe River State Park,
North of Winamac Indiana on US Highway 35.
$20.00 per person, $30.00 per family
 Meals available on site at nominal cost
Classes and Programs
 Classes, demonstrations and field training in outdoor survival skills, emergency first aid, map and compass, pioneer survival, , shelter building, home-emergency preparedness, self-protection skills, camping skills, and more.  All classes taught by experiences, certified and instructors.  This family-friendly event is meant for everyone, from those with little experience to the most experienced preppers, and everyone in-between.
 Lodging and Camp Sites
We recommend participants arrive Friday evening and/or depart Sunday morning to maximize learning and networking time. There is a limited number of cabins near the hall available through the Indiana Department of Natural Resources Website. Camp and RV sites in the park can also be reserved through the website or at the park
 Go to www.AmericanSurvivor.org or send check to Live Free USA, Box 3295, Munster, IN 46321